The Two Most Important Lean Principles for Efficient Machine Shops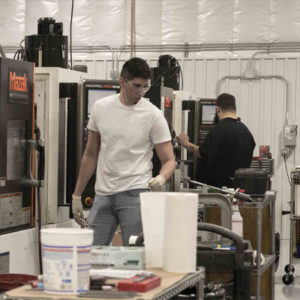 Implementing lean practices in job shops is notoriously difficult. The reasons are many: unpredictable or irregular order frequency, varying part complexity, limited raw material inventory, late order changes, challenges in finding experienced personnel, cross-training personnel – the list goes on. However, the two greatest concerns are jumbled job-routing sequences and elongated setup times.
There are many different lean-manufacturing tools and principles intended to help streamline job routes and reduce setup times throughout machine shops, but one common methodology is the development of machine cells. Machine cells on a shop floor can improve machine setup times and reduce downtimes without sacrificing flexibility. However, designing machine cells requires planning.
Homework
A close examination of job routes is critical before determining appropriate machine groupings, configurations, and positions on the shop floor.
To review job routes, determine the following:
The machine shop's primary workload (i.e., parts that constitute the bulk of the shop's revenue).
The processing sequences, or routes, of the primary workload (such as part routes that share types of machine processes and processing sequences or sequence sections).
Planning Machine Cells
It's possible to define which machines are best to group together in cells and where to place the cells in relation to others, as well as in relation to the rest of the facility. These cells should consist of machines that are common to as many of the routing sequences in a shop as possible. This way, part and employee travel throughout the facility is minimized, as are bottlenecks and machine downtimes.

In addition to cell design, part routing will inform a machine shop's overall layout. Considering that any given cell will not necessarily contain every machine needed to complete every job, there will most likely be parts that have to physically leave one cell and enter either another cell or department for further processing. As such, wherever possible, place complimentary cells near each other in order to limit the time parts are traveling.
The Problem With Setup Times in Machine Shops
Unfortunately, lengthy setup times are prevalent in high-mix, low-volume job shops due to the number of different product orders. As a result, machine cells alone won't reduce these times to the fullest extent possible. Nevertheless, reducing setup times to a minimum is critical in preventing interruptions to the product flow.
However, machine shops that carefully, thoughtfully, and persistently implement certain lean practices commonly report reductions of 50-75 percent in their setup times within their first year. That said, reducing setup times is neither a simple nor a quick fix; it requires close attention to detail and organization.

Reducing Machine Setup Times

Follow the below steps to help reduce setup times:
Identify problematic setup times.
Review the product routes and processes contributing to the elongated setup times and determine which actions can be eliminated or streamlined.

It is sometimes useful to film full changeovers and part-processing routes in order to pin-point areas for improvement, such as unnecessary actions or steps to delete, tool relocations, or pathway changes.

Identify the external setup steps that can be performed while the given machine is running.

Streamline procedures so external setup steps are performed while machines are running, including preparations for internal setup procedures.

Streamline internal setup procedures, or steps to be performed while the machine is not running.

While tool standardization is frequently difficult in high-mix, low-volume job shops due to the amount of custom projects, standardizing wherever possible helps to significantly reduce machine downtimes.
Throughout the above described process, apply the 5S methodology to aid in organizing and standardizing the workspace. It's worth noting that the above steps will most likely require repeating several times as overall processes are improved. In fact, lean practices themselves are meant to be iterated in order to achieve continual improvements.
Important Note
While lean practices have proven effective for increasing machine shop efficiency and reducing costs, successful implementation of lean practices requires company-wide commitment to ensure that the company policies and procedures and layouts match the shop's needs.
Have a Project? Request a Quote! or Have a Question? Ask it Here!
AGM Precision Machining is a service of AGM Container Controls, Inc. A leader in the manufacture and supply of moisture control products to the aerospace and defense industries since 1970. Located in Tucson, Arizona, AGM Container Controls, Inc. is an American owned and operated company and proud supplier to the U.S. military.